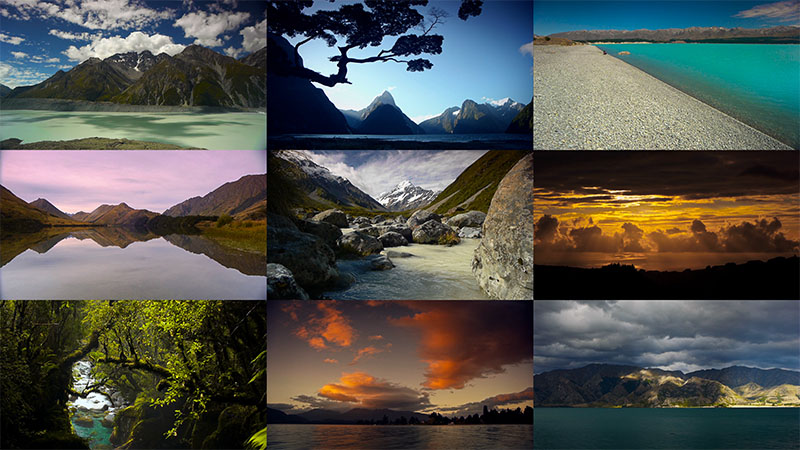 New Zealand is a bit of a tricky place for a holiday, especially if you are a photographer. We all know how beautiful it's supposed to be, we have seen thousands of amazing photos from there and we start with very high expectations. The problem is that usually, during a short holiday, we only have one chance to see a particular spot and we can't control the weather. To some extent, we also have constraints on the time of the day and honestly it's easy to be disappointed. Some places that I expected to be amazing were just 'ok', while simple stops on our way somewhere blew my mind :-). There are definitely astonishing places in New Zealand, packed with enough colour to make you question reality. There are also touristy, totally overrated spots that are not worth going to. It is possible that I'm spoiled by the pristine and wild Australian nature. Most likely the fact that most of the New Zealand that we saw was 'tourist ready' ruined it for me a bit. Even the famous Routeburn track (that we only did part of) was a big disappointment – lots of people on a "highway" through the mountains. On the other hand, there were plenty of "oh-shit-stop-the-car" locations, where we had to park the van in the middle of a narrow road to take a picture and enjoy the scenery. There were a few spots off the beaten track that were unexpectedly beautiful and left us smiling for a long time.
The video is a compilation of the best clips from the whole two week trip. We went from Christchurch, through lake Tekapo, lake Pukaki, Mount Cook, Hooker Valley, Tasman Lake, Kea Point, Lake Hawea, Lake Wanaka, Lake Wakatipu, Te Anau, Doubtful Sound, Milford Sound, Gertrude Saddle, Key Summit, and back to Banks Peninsula and Christchurch.
Some people like to know technical details; I shot using my beloved Panasonic Lumix GH1. I wish I had the new Lumix GH4 with me but the hacked GH1 still coped very well and delivered amazing-looking footage. I used a variety of lenses, mostly 12mm/1.6 SLR Magic but also some manual Pentax primes like 24mm/2.0 or 50mm/1.7. I also carried Konova K2 slider that proved to be one of the best additions to my pack. 2 extra kilos were difficult to justify sometimes but worth the effort in the end.