HLG to rec709
I have been trying to find the best/easiest way to use the amazing dynamic range of HLG for standard rec709 delivery.
Timeline Colour Management
The most obvious way to do the conversion is to use Davinci Resolve colour management. We set our working space to ACEScc and IDT to HLG and the timeline/delivery to rec709. This process does the conversion under the hood and we work with rec709 with an extended dynamic range. From here we can design our own tone mapping curve or change the exposure of the shot. The main drawback here is that we have to change resolve working colour space and the grading controls will work slightly different to what we are used to.



This solution works well as long as you do not need to mix HLG with rec709 in a single project.
Clip Conversion
Another way is to do conversion per clip. This is more useful when we want more flexibility and when we need to mix rec709 clips from another camera. We need to do two conversions:
– colour gamut rec2020 to rec709
– gamma HLG to rec709
Resolve provides a colour transform OpenFX that does just that. It allows setting colour management as a node conversion.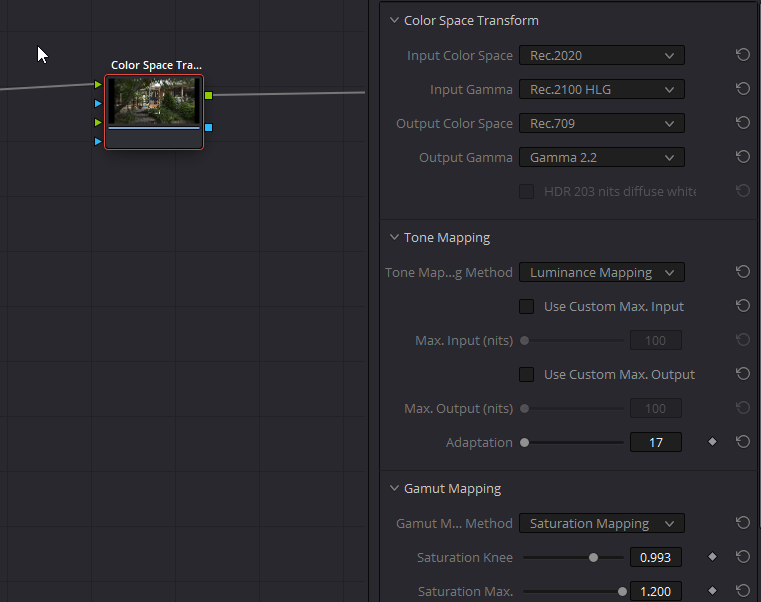 The free version of resolve, unfortunately, doesn't allow to use OpenFX and the colour conversion has to be done through a custom LUT (for instance a driftwood one) in three steps.
1. a lut to convert HLG to linear (available in resolve)
2. another lut to convert rec2020 gamut to rec709 (3rd party)
3. final lut to convert linear to rec709 gamma (available in resolve)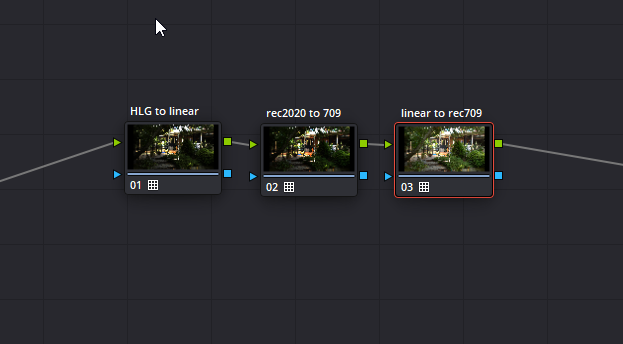 Someone else LUT
This is the easiest solution but also the most restrictive one as we do not have much control over the conversion. However, it may be best for people who do not want to deal with colour gamuts manually and get a decent result quickly.
Download free conversion LUT:
nopixels_net_hlg2020_to_rec709_2.0.zip (20011 downloads)
The early version of this LUT wasn't correct. Please make sure you are using v2.0.
---